February 17th, 2022
MiracleCord
Sure, you've packed a bag or suitcase before. But having all the essentials you'll need for you and your little one after giving birth can feel like much higher stakes. After all, having a baby is more exciting than any vacation or trip! Plus, there can definitely be some pressure to make sure you have all of the things you've heard that can support a great birth experience and your postpartum recovery.
In short, as special, and as exhilarating as this time before your baby is born can be, it can sometimes feel a bit overwhelming too. But figuring out what to put in your hospital bag doesn't have to be a big deal, especially when you start with a smart, simple list of must-haves.
Enter our Hospital Bag Checklist. Here, you'll find advice on all the essentials you'll want to have on hand for labor, delivery, and postpartum, the items you'll want to bring along for your baby, plus what your birthing partner or support person will need for the big day.
When Should You Pack Your Hospital Bag?
A good rule of thumb is to have your hospital bag packed and ready to go between 36 and 38 weeks. You can add in last-minute essentials (like your toothbrush or fresh snacks) when you're ready to head out the door.
Why so soon? Though your calendar probably has a big red circle (and lots of exclamation marks) on your actual due date, babies don't always show up on the day of. Having all your essentials gathered and packed well in advance means you'll be ready to go whenever your baby decides that it's time (and you won't have to worry whether you forgot anything while you're trying to breathe through those contractions).
What to Pack in Your Hospital Bag
When it comes to your packing list, some things are considered essentials while others are there to make you, your baby, and your birth partner or family support feel more comfortable on your delivery day.
We've tried to break down our list into the must-haves and the nice-to-haves as much as possible. That said, one woman's comfort item might be another's essential (and vice versa). Ultimately, you should bring the items that you'll need to feel your best and skip anything that doesn't seem like it would be helpful.
Hospital Bag Essentials
The list of items you absolutely need is actually fairly small. Even if you want to keep your hospital bag as simple as possible, make sure to bring these items along.
Birth plan: Include a few copies of your birth plan in your bag, with key sections highlighted, just in case any of the doctors or nurses have any last-minute questions. This is especially important if you're planning to have your baby's cord blood banked. It is your right to have your baby's cord blood banked, so make sure the medical practitioners don't miss this precious opportunity.
Cord blood collection kit: If you are banking cord blood, you will need to bring your cord blood collection kit with you to your birthing facility. (You should also bring it with you to all of your doctor appointments, just in case there is an unforeseen emergency when you go in for an appointment.) If you decide to bank at the last minute, don't worry, MiracleCord can send you our StemCare® Collection Kit overnight.
Driver's license or ID: Identification is essential for filling out hospital paperwork and bringing home your baby.
Insurance card: Again, you'll want to have your provider information handy to fill out paperwork when you arrive at the hospital.
Cell phone and charger: You'll likely be at the hospital for a night or two, so your phone will need plenty of juice. Consider bringing along an extra-long charger cord if you can. The nearest outlet might not necessarily be near your bed - where you'll be spending most of your time.
Clothing to wear home for mom: Comfort is key. Pick something soft and loose-fitting that fits you now as opposed to an outfit that fit you pre-pregnancy, since it can take several weeks after birth for your uterus to shrink back down to its normal size. Make sure the top is nursing-friendly if you plan to breastfeed, too.
Going home outfit for baby: No need for anything fancy (unless you want a certain look for those pictures), but do keep the weather in mind! A simple onesie might work in the summer, while winter babies will need more layers.
Pediatrician's contact information: Save yourself the trouble of trying to Google the doctor's phone number with the spotty hospital Wi-Fi. Have it written down.
Mom's medications and medication list: Bring along any prescriptions or over-the-counter medications or supplements you typically take. Having the meds and dosages written down can be helpful for your care team to review, especially if you need to receive additional drugs while at the hospital.
Infant car seat: Most hospitals won't let you leave without one. Install the car seat in your car around the same time that you pack your hospital bag. You can head over to a local car seat inspection station if you need help installing the seat correctly or just want some extra assurance that everything is right. Find one near you at NHTSA.gov.

Hospital Bag Checklist for Mom
Sure, you'll be focused on the baby. But it's worth bringing along the items that'll help you feel your best during those hours and days after giving birth. These might include: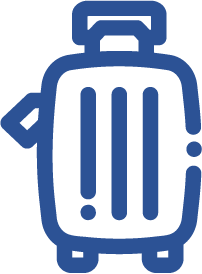 Comfortable clothing: Having your own clothes always feels a little cozier than the standard issue hospital gown. Especially since those hospital rooms can be a little chilly!
A loose, comfortable outfit. Pajamas or sweats in your current (not pre-pregnancy) size are a good bet. Bring a few layers in case the hospital room temperature is warmer or cooler than you like.
Nightgown or robe to throw on when visitors come in. It's a simple extra, but it really can help you feel a little more put together and guest-ready.
Maternity underwear. Your abdomen and uterus will still be swollen, and you'll be using thick pads, so you'll want something roomy. Plain, inexpensive cotton briefs are best - they'll give you the most coverage, and you won't care if they get stained.
Bra or nursing bra and nursing pads if you are planning to breastfeed.
Comfortable shoes. Non-skid slippers are fine, but consider bringing along a pair of flip-flops, too, for wearing in the shower.
Glasses or contact lens and lens solution. If you wear them. A backup pair of contacts is always a good idea too.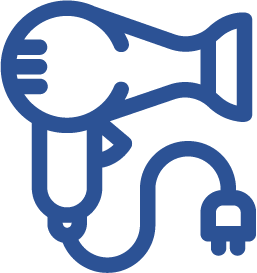 Toiletries: You won't exactly be primping, but having your favorite personal care products can help you feel a little bit more like yourself.
Heavy-duty feminine pads or adult diapers. Both can help you manage the heavy bleeding, or lochia, that comes during the early days and weeks after giving birth. Which you choose is a matter of preference, but if you're not sure what will work better for you, consider bringing some of each.
Toothbrush and toothpaste. Because nothing feels worse than morning breath all day long.
Face wash and moisturizer. You'll want to cleanse after giving birth.
Shampoo, conditioner, and body wash. The hospital may have some, but you'll probably like yours better. Travel-sized bottles are nice since they take up less room in your bag.
Hand or body lotion. Consider bringing something mild and unscented, to make sure the baby can smell your natural scent rather than an added fragrance.
Antiperspirant or deodorant. You always toss it in your travel bag, so you'll want it this time too.
Lip balm. It's a must for staving off chapped lips in dry hospital rooms.
Hairbrush or comb. A few swipes through your hair will help you feel more put together.
Hair ties or headband. You'll want your hair out of your face during labor (and putting it up afterward might feel easier than washing it).
Nipple cream. Bring this if you are planning to breastfeed.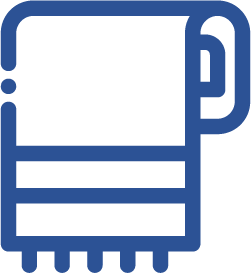 Comfort Items: Your hospital room probably won't feel quite like home. But you can bring along a few of your favorite items for a homier feel!
Comfortable pillow and blanket. Bring ones you like, just make sure they're easy to wash in case they get stained.
Bath towel. Hospitals have their own towels, but they tend to be small and rough.
Headphones or Bluetooth speaker. They'll come in handy for playing your birth playlist during labor (and some soothing tunes for baby after delivery).
Reusable water bottle. Staying hydrated while you labor and recover is a must.
Snacks. Pick options that offer fiber-rich carbohydrates and protein to keep you energized. Energy bars, dried fruits, nuts, and whole-grain pretzels are shelf-stable options you can add to your bag at any time. Cheese sticks, yogurt, fresh fruit, or hummus are satisfying picks you can pack along at the last minute.
Laptop or tablet. Because you might be up for watching a few episodes of a favorite show at some point.

Hospital Bag Checklist for Baby
Good news: Your baby won't need much other than lots of snuggles and something to keep him/her warm (and you'll get a little blanket, hat, and outfit from the hospital if you forget your own). But you'll want to plan appropriately for the trip home, plus, a few extras are always nice.
Swaddle or receiving blankets. If you're not sure how to swaddle, your hospital stay is a great time to sharpen your skills. The hospital nurses can show you exactly what to do and help you hone your technique if you're having trouble.
Burp cloths. They're a must for catching spit-up.
Socks and booties. You'll need to keep those tiny feet warm!
Baby hat. Bring one if you want something other than the standard-issue hospital topper.
Formula and bottles. Take them along if you're not breastfeeding.

Hospital Bag Checklist for Partners
Your birth partner or support person will need some items to stay energized and comfortable too. (While they're not running the same kind of marathon as you, when they feel their best, you'll get the best support.) That's especially true if they'll be staying overnight.
Change of clothes. Again, layers are good in case the hospital room is too warm or too chilly.
Comfortable socks and shoes. They'll be doing a lot of standing and running back and forth.
Toiletries. These are a must if your partner or support person is staying overnight.
Medications. Just pack just what they need, so there's no toting around big medicine bottles.
Glasses or contacts. Contact-wearers should bring a spare pair, too.
Cell phone and charger. They'll be sharing the big news with everyone, so they'll need to reach out.
Snacks or small bills. Dollar bills are useful for getting snacks from the vending machine.
Water bottle or drinks. So they don't have to run down to the cafeteria.
Tablet, book, or other entertainment. To stay occupied in case there's some downtime.
Pillow and blanket. They'll be sleeping on the couch, and extras might not be provided for them.
A checklist of who to call or text. Because you don't want to accidentally forget anyone.
A camera. Bring one along if they aren't planning on taking pictures with their phone.
A spare bag or envelope. It's useful for corralling any keepsakes, like your baby's hospital bracelet.

What NOT to Pack in Your Hospital Bag
It can be tempting to keep tossing items into your bag, especially when you're packing for the hospital for the first time. Since you don't know exactly what you might need, bringing more is always better, right?
Well, it might seem like being over-prepared would be a good thing. But spending too much time focusing on what to pack can take away mental energy from what's really important: Bringing your baby into the world!
With that in mind, there are a few things you probably don't need to worry about bringing along on the big day.
Items the hospital already has. Many hospitals and birthing centers provide items like mesh underwear and non-skid socks for mom, diapers and wipes for babies, and even some of the items included in this checklist. When you know where you'll be delivering, you can check with the staff beforehand to find out what's provided - so you don't need to worry about it. After all, there's no need to pack extra things that you and your baby will already be receiving!
Valuable items. Also, consider leaving valuables like jewelry or lots of extra cash at home. You won't need them and, with so much else going on, you might not remember to keep track of them. (If you really want to bring something valuable, make sure your birth partner or other support is able to keep an eye on them.)
Excessive comfort items. Finally, resist the urge to bring along lots of extras in an attempt to create the "perfect" birthing atmosphere. While it's worth having a few things that make you feel comfortable, chances are you won't be paying much attention to that scented candle or mood light while you're laboring or getting to know your baby. It'll simply take up extra room in your bag and be more for you to pack up when it's time to head home.
Adding Cord Blood Banking to Your Checklist
At MiracleCord, we believe a cord blood banking kit is an essential part of any hospital bag checklist, though that's not necessarily the case for every mom-to-be, of course. While we recognize that cord blood banking might not be a part of everyone's plan for their baby, there are numerous reasons why you may want to consider banking your baby's cord blood.
If you'd like to learn more about the many benefits of cord blood banking, we're happy to send you our Free Information Kit. You'll be able to have lifelong peace of mind knowing that your child and family could be protected from over 80 diseases and conditions.


The Bottom Line on Packing Your Hospital Bag
While there are some items that every mom-to-be should bring along to the hospital, no one hospital bag packing list will cover everything for everyone. So, take our list (or any list!) as a general guide, not rules that need to be followed.
Remember, it's about striking a balance between bringing what will help you feel your best without burdening yourself with excess items that you don't really need. Being prepared is always a good thing, but overfilling your bag just means extra things to keep track of (and eventually unpack when you get home).
And in the end, if you happen to forget something or realize it would have been better to bring a certain item along, it probably won't be a big deal. You can have a family member or friend drop the item off if you absolutely need it. But chances are, you'll be too focused on labor, birthing, and the biggest prize of all - your baby! - to even notice.